Safeguarding Children's Week 2023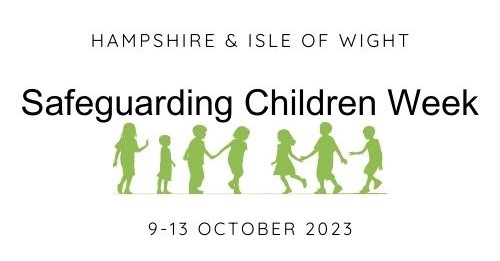 Welcome to Hampshire and the Isle of Wight Safeguarding Children Partnership's (HIOW) inaugural Safeguarding Children Week 2023, which runs from 9 to 13 October.
Safeguarding Children Week has been developed by the HIOW partnerships as an annual opportunity to bring together agencies and organisations across Hampshire and the Isle of Wight to raise awareness of important safeguarding issues. Our aim for the week is to enable all organisations and individuals working with children and families to feel confident in identifying the signs of abuse and neglect and to know how to record and respond to safeguarding concerns.
We have lots of exciting things to share this week including the launch of several new toolkits, messages from senior managers and key learning that you can apply to your practice. Take a look at our programme for more details. You will need to come back to the website each day of the week when we unlock the relevant page containing more information.
Safeguarding is everyone's responsibility, so with this in mind we have come up with a variety of themes for different audiences to share with you every day this week. Please come back every morning to see what our theme for the day is – so be sure to mark this page as a favourite in your web browser.
If you have any questions or feedback on the week, please get in touch at hscp@hants.gov.uk.
To start our week find out more about the role of the HSCP and IOWSCP Independent Chair and Scrutineer in an interview with Scott MacKechnie